How the Manual Lawn Edger / Sod Cutter Works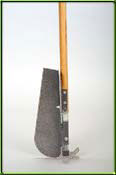 From an all wood construction (except for the blade), plus 2 pins holding it together ... into an easy to assemble configuration using an all metal all Stainless steel blade, that can be sharpened, with a milled wooden handle and a more durable foot rest.
This is a must have lawn tool whether your planning to redesign your lawn, cutting angles or straight edges and even cutting the sod for your beautiful new yard.
Step-n-Edge is so confident in the construction of the tool that we warrant it for a full 3 years!

Using the The #1 Lawn Edger™ is easy.  Just slide your foot into its pre set slipper and take hold of the handle.  Put the heel of the blade in the turf at the place you would like to start. Imbed the blade into the turf by stepping down on the heel then, step down on the toe of the blade (do not take blade out of turf).  Simply lift toe up, leaving heel in turf and drag - pull - step forward ... heel...toe...heel...toe.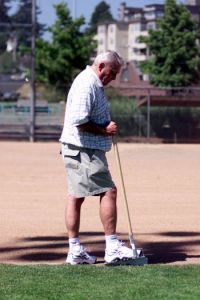 heel ...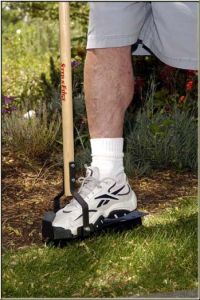 ... toe
The #1 Lawn Edger™ is about the same size as your ordinary garden rake or hoe and requires less energy to use.  No bending or straining required to use this lawn necessity, just an even heel to toe walking motion edges it all.
Your #1 Manual Lawn Edger™ is made of durable all Stainless steel, with a wooden handle for strength and durability.  Easy to clean and simple to maintain.  We suggest any spray lubricant on all metal parts.  Don't be fooled by cheap imitations.  We guarantee our workmanship and will replace the #1 Lawn Edger™ for the original purchasers, if found to be defective in material or workmanship up to one year after its purchase.
Cutting angles and #1 Lawn Edger™ designing your new flower bed or garden is a snap.  First, take your garden hose or string and lay out any contour you wish and cut your design.  Hiring professional landscapers is costly.  You can be the landscape designer and the landscaper without the added expense and have the personal satisfaction that you did it yourself!